Corban University
June 5, 2018
Is Theatre Camp for You? Meet One of the Instructors and Find Out!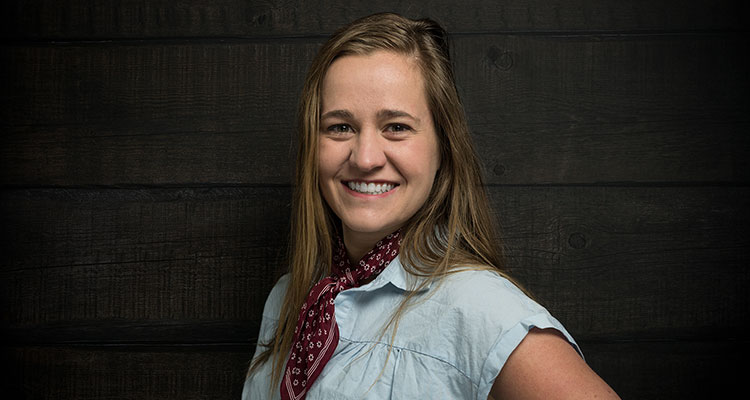 Corban University's Theatre Camp is fast approaching! From July 23–August 4, students entering grades 4–12 will be exploring different facets of theatre, from script writing to costuming to choreography. Get to know one of the instructors, Emily Abbey, who has years of acting experience as well as a passion for educational theatre.

Have you taught at Theatre Camp before?
This my fourth year teaching theatre camp! I actually went to theatre camp as a kid—when I was in fourth grade, and again going into eighth grade.
What makes you passionate about helping with Theatre Camp?
I love the independence of it. As groups we are pretty autonomous, so we make up the script, I do their choreography—it's very low-key. We're not doing a licensed show, so it's not like, "We have to do this or else no one will come see our show!" It's all about the kids, and it's all about their experience.
Have there been any special moments when you've really seen a student develop?
Last year we did a show called "The Dream Circus." The theme of the camp was Dream Big, so we created a story about Shade Town, a gray town where no one followed their dreams. The town was all black and white and gray, and then the dream circus came, which was full of light and color and sound! I had one little girl, Sarah, whose dream was to be a storyteller. At the last minute, I gave her a tambourine. I said, "Sarah, every time you give your line, I want you to shake that tambourine dramatically." She was like, "Okay!" I gave her specific times to do it, but she did it every time she said a line. It was so funny. I'm a huge believer in actor instincts, so when I see a kid connect something in their brain and use their actor instincts to do something I didn't direct them to do, it's lovely. I live for those moments.
What was your journey to becoming an actor?
I started doing church plays—I was in my first play over at Grace Baptist Church when I was six. I was homeschooled, so I didn't do school theatre. But I grew up coming to Corban's shows. I remember the last show I saw before I graduated high school, "Hound of the Baskervilles." I saw it, and then I stood up and thought, "Alright, that's the last show I'll watch before I'm in them." And it was true. I came in, I auditioned for Macbeth, and I was in eight shows all four years I was here.
Which show has been your favorite to perform in?
"Much Ado about Nothing." It was great. I fulfilled one of my acting goals, which was to fall in love on stage—and cry. My goals were to cry, fall in love, and die. I got to cry and fall in love, so it was two things off my bucket list. I love Shakespeare and classical theatre, so taking that chance to play a role that so many people have already done and put my own spin on it was challenging! It was a challenge every day, and that's what made it wonderful.
What show challenged you the most and helped you grow as an actor?
"The Miracle Worker," when I played Annie Sullivan. I have a lot of energy, and I had always been able to explode that on stage, whether it was from a very regal standpoint when I played Athena, or from a completely girly standpoint when I played Jennie in "Exit the Body." But with Annie in "The Miracle Worker," I couldn't get away with that. I had all that energy, and I had to keep it restrained until the right moment. It was literally like training a muscle. I had to stretch it, then bring it back in. That changed me as an actress—it was a 180 degree change.
What makes you passionate about theatre?
I love stories. I love telling stories. I think every story deserves to be told, whether it's a fictional story or a true story, whether it's a Bible story or a story from the secular world. I believe that story is definitely how we see God. The act of bringing a story on stage and making it so tangible—using your whole body, your voice, your face, putting that all together—it's such an immersive experience, and it's so powerful. I've never been one to "sit and listen," and when you're doing theatre you don't have to sit and listen; you can be up on your feet, you can experience it with your hands and with your whole body.
What's the best piece of advice you've ever received about acting?
"There are no small parts; there are only small actors." When you're cast in an ensemble role or a small role, you're tempted to think, "But I'm a big actor! I can't be constrained by this tiny role." But it really keeps you humble, and it keeps you hungry. This might be a small part that I've been given, and that's humbling, but that doesn't mean I'm a small person. It doesn't say anything about my identity as a person or my identity as an actor.
If somebody's nervous about Theatre Camp or feels a little shy, what would you say to that person?
There's a place for everyone at Theatre Camp. Whether you're a little more shy, or whether you have a hugely explosive personality, there's a place for you, and it's a safe place. People sometimes think theatre is only for the loud kids, but I think it's for everyone. It teaches you about teamwork, it teaches you about trusting each another, it teaches you how to use your creativity and your imagination in a positive way. Don't let anything hold you back. I know a lot of people are like, "I'm scared to be on stage." But that's only part of the process. It's about everything else you learn leading up to the stage.
What makes Corban's Theatre Camp unique?
The summer after I graduated, I did a theatre education internship with a professional company in Seattle, so I did ten weeks of nonstop theatre camps, from age four all the way through 12th grade. If there's something that makes Corban's Theatre Camp unique from anything else you'll find, it's the artistic freedom we have. We don't use a licensed show—we make up the show ourselves. That gives kids the opportunity to learn about plot and what goes into making a story. It's not all about the production at the end.
We take opportunities for educational moments to teach kids a little more about themselves, a little more about theatre in general. We also bring in three or four guest speakers throughout each camp to teach seminars on different topics related to theatre. We've always done one on lighting, we do one on set construction, we did one on opera one time! That opens it up for kids who may not necessarily want to be an actor. It shows them there are different avenues for their creativity.
Which seminars and workshops will be offered this year?
This year we're going to do a costume seminar, we're going to do a voice seminar (teaching kids about their singing and speaking voices), and we're also going to do—I'm really excited for this, because this is the first time we've done it—we're going to do a mini fight choreography seminar. So that's really exciting. I cannot wait for that!
Emily Abbey is joined by five other instructors, under the leadership of Tamara McGinnis, for this year's Theatre Camp:
Rachel Ost (high school): Director and assistant director for countless Corban shows; Corban alumna; author of Corban's spring 2018 show "Alice"
Lori Hammer (middle school): Founder of SKIT Theatre (Salem-Keizer Inspirational Teens)
Janey Jefferson (middle school): Director with Arts Integrated Ministry in Independence. Janey's forte is choreography.
Brylie Fitzgerald (elementary school): Current student at Corban University; pursuing her degree in music education. Brylie has performed in several Corban shows including "The Music Man" and "Primitive American."
Sasha Shay (elementary school)
Earlybird Registration is open through June 22! Register now for the discounted price of $150. After June 22, registration is $175. Scholarships are available!