Corban University
November 15, 2019
Corban's Production of "Humbug" Brings a Timeless Christmas Message to Audiences of All Ages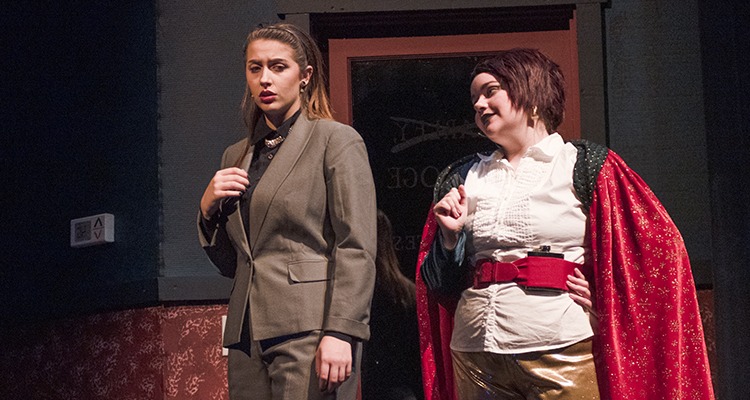 The Corban Theatre Department is proud to present John Wooten's "Humbug," a modern telling of Charles Dickens' classic story "A Christmas Carol." Directed by Tamara McGinnis, "Humbug" promises to bring a Christmas message that is sometimes sobering, sometimes comic—yet always full of hope.
The scene is set with a red leather chair reposing at a cheap wooden desk. Outside the window of a 16th floor office, frost is forming, creating an icy halo around the cityscape below.
Every aspect of the office speaks of simplicity and austerity. One doesn't need to read "Scrooge & Associates" in crisp letters on the door to know this is the office of Eleanor Scrooge (Noelani Eley). From her starched business pantsuit to a sensible black headband holding every hair in place, Eleanor is as cold and unfriendly as the temperature of her office, kept at a frugal 50 degrees.
Just outside the door to her office—which is almost always closed—sits Bobbie Cratchett (Karina Mansour), Eleanor's loyal yet exhausted assistant. The two women couldn't be more opposite. While Eleanor's desk contains little more than a jumbo-sized bottle of hand sanitizer, Roberta's is smattered with haphazard post-it notes, each containing bits of information from Eleanor she struggles to remember. Her flyaway hair suggests a woman who pays less attention to her appearance than the wellbeing of her daughter, Tina (Jasmin Lee), who we learn has a dangerous heart condition and needs an advanced surgery.
It's Christmas Eve, and as usual, Eleanor is working late. To her, Christmas Eve is nothing more than another Wednesday, and she derives more cheer from putting the finishing touches on a corporate takeover than the singing carolers who show up outside her office.
Eleanor shoos them away impatiently, and when Bobbie continues to hum the cheery tunes under her breath, Eleanor shuts her up with one of her well-worn adages. "A closed mouth catches no flies," she snaps.
Sayings like "Fools rush in where angels fear to tread" and "You can lead a horse to water, but you can't make it drink" are the guideposts for Eleanor's life—oversimplified, overused axioms she uses to protect herself and control and manipulate others.
At long last, Eleanor permits Bobbie to leave the office, making her promise to return promptly at 7am the day after Christmas. She breathes a sigh of relief, finally alone, and hunkers down for a long night alone at the office.
But on this particular night, Eleanor will not be alone.
Just as she's settling into a copy of Forbes Magazine, the phone rings, making her jump. But when she answers it, no one is there.
A second time, the phone rings. Still no one.
Uneasy, Eleanor walks over to the window, perhaps to open it for a breath of fresh air. But when she raises the blinds, the ghostly face of a man stares back at her from the other side of the glass. With a scream, she yanks the blinds shut and collapses in her chair.
The man, it turns out, is the ghost of her former partner, Jacob Marley (Quinn Coomer). He's come to inform her that she'll be visited by three ghostly advisors throughout the night—each with a bit of "insider information" about the stock she's been investing in.
Join Eleanor as she journeys with her three mysterious guests, who require her to face up to the decisions she's made and look past her "Scrooge-isms" to discover a more human way of interacting with those around her.
Who was Eleanor before she became a hardened business woman without an ounce of Christmas cheer? Who has she become as she sits in her icy office shutting out the needs and gifts of others? And where will her path lead if she refuses to look inside herself and change?
Discover the answers to these questions at one of Corban's remaining performances of "Humbug":
Friday, November 15, 7:30pm
Saturday, November 16, 7:30pm
Friday, November 22, 7:30pm
Saturday, November 23, 7:30pm
Sunday, November 24, 3pm