Corban University
March 8, 2019
Corban University's Production of Suite Surrender Promises an Evening of Laughter and Delight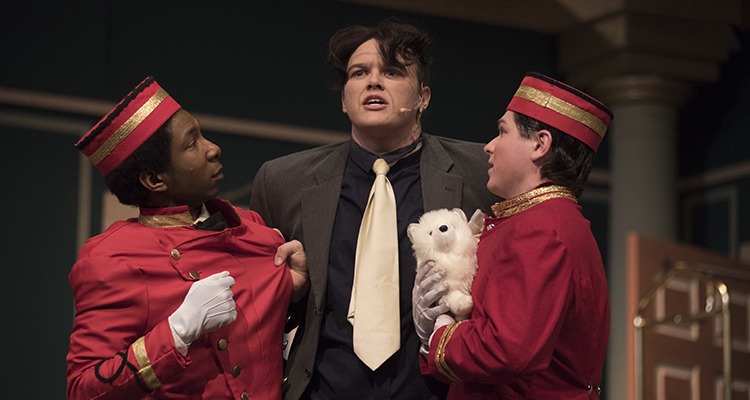 We'll meet again
Don't know where
Don't know when
But I know we'll meet again some sunny day.
Vera Lynn, 1940
It's World War II, and everyone's doing their part to help the war effort—even at the Palm Beach Royale Hotel, where the effusive Mrs. Everette P. Osgood (Ashley Benton) is organizing a War Fund Benefit Concert on behalf of the Palm Beach Ladies for Unity. Except that her charitable functions often do more harm than good. We learn that the last time she used the hotel for one of her pet functions, the chaos that ensued caused $40,000 in damages.
But this time will be different. Even though Mrs. Osgood has invited two celebrity singers with a historic feud—which itself has wreaked havoc every time they've appeared on stage together—the hotel manager, conscientious Mr. Bernard S. Dunlap (Kane Wilton), assures her that Athena Sinclair (Nicole Peeke) and Claudia McFadden (Madelyn Hawken) will be housed on opposite sides of the hotel, their singing acts separated by a full half hour. "They'll never see each other," he assures her, as he puts the last finishing touches on the Presidential Suite, reserved for Claudia McFadden. The audience knows better, and sits back to watch the chaos unfold.
Written by Michael McKeever and directed by Jeremiah Price (with assistant director Nathan Messmer), "Suite Surrender" is a story of enlarged egos, a double-booked suite, and a revolving door of luggage and white roses that keep two bewildered bellboys on their toes. A rhythm of opening and slamming doors keeps perfect time for this comedy of confusion, where the audience delights in knowing just a bit more than the characters in the room—well, most of the time.
Impeccable comic timing and attention to detail is just one of this show's strengths. Acting is just as over-the-top and extravagant as one would hope for a farce set in the 1940s, and a delightful sub-plot involving a bellboy and a secretary pays homage to the upstairs/downstairs subplots of Shakespeare, adding intrigue and, in this case, additional confusion. Costuming—complete with long fur coats, ropes of pearls, and peacock feather hats—adds to the sense of a slightly-worn-out Hollywood golden age. And while the two divas are best at causing mayhem and demanding that the lap dog Mr. Boodles be "taken out for walkies," there is a moment in which their vocal talent shines through, and the audience begins to believe there's something to admire in them after all.
Will Mrs. Osgood's War Fund Benefit raise more money than it costs in damages? Will Athena Sinclair and Claudia McFadden face off in an epic vocal duel? Will hotel manager Mr. Dunlap's toupee manage to stay firmly on his head? You'll have to find out for yourself at Corban's remaining performances of "Suite Surrender."
Purchase your tickets now for one of the remaining performances:
Friday, March 8, 7:30pm
Saturday, March 9, 7:30pm
Friday, March 15, 7:30pm
Saturday, March 16, 7:30pm
Sunday, March 17, 2:30pm matinee
Full Cast:
Otis – John Crocker
Francis – Joseph Elkins
Bernard S. Dunlap – Kane Wilton
Mrs. Everette P. Osgood – Ashley Benton
Claudia McFadden – Madelyn Hawken
Mr. Pippet – Devin Desmond
Athena Sinclair – Nicole Peeke
Murphy Stevens – Noelani Eley
Dora Del Rio – Heather Bellinger