Corban University
Arts and Culture
---
December 22, 2020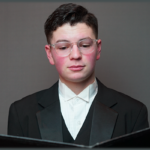 "We need music. There's a certain aspect of being human that nothing else reflects as well as music," says Associate Professor of Music Mark Stanek. Since the advent of the COVID-19 pandemic, music
---
November 15, 2019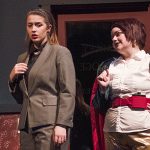 The Corban Theatre Department is proud to present John Wooten's "Humbug," a modern telling of Charles Dickens' classic story "A Christmas Carol." Directed by Tamara McGinnis, "Humbug" promises to bring a Christmas message that is sometimes sobering, sometimes comic—yet always full of hope.  
---
March 8, 2019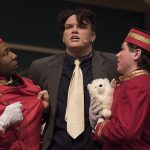 It's World War II, and everyone's doing their part to help the war effort—even at the Palm Beach Royale Hotel, where the effusive Mrs. Everette P. Osgood (Ashley Benton) is organizing a War Fund Benefit Concert on behalf of the Palm Beach Ladies for Unity.
---
November 10, 2018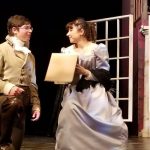 "I'm always anxious to get a good husband for every pretty girl."
Thus says Mrs. Jennings (Rachel Stadeli), the busybody and wishful matchmaker, who would have loved to be the architect of every romantic attachment in "Sense and Sensibility" (adapted for the stage by Emma Whipday).
---
July 17, 2018
Maryann ('97) had no aspirations to write a book, much less a novel that combines romance with terrorism in the White House! But while studying Esther, Maryann began to imagine how the story of Esther would have unfolded today. Her personal notes eventually turned into a gripping novel that challenges believers of all ages to step out in faith.
---
June 22, 2018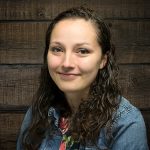 At first, Melody didn't see how a four-year degree in music would be practical—especially a degree in piano performance. So she decided to major in accounting instead, and keep piano as a minor. But the longer Melody studied at Corban, the more she realized she wanted music to play a bigger role in her life.
---
June 11, 2018
This past May, ministry faculty Dr. Greg Trull, Dr. Sam Baker, and Dr. Tim Anderson traveled to Cameroon, West Africa, along with seven ministry students, for a sweet time of ministry, teaching, and celebration. While students participated in a variety of ministry opportunities, faculty prepared Corban's second cohort of pastors for graduation.
---
June 5, 2018
Corban University's Theatre Camp is fast approaching! From July 23 to August 4, students entering grades 4–12 will be exploring different facets of theatre, from script writing to costuming to choreography. Get to know one of the instructors, Emily Abbey, who has years of acting experience and a passion for educational theatre.
---
March 8, 2018
On March 8, Corban University Theatre's "Alice" opened for its premiere performance. Written and directed by alumna Rachel Ost, the show brings Lewis Carroll's characters to life in a world eerily reminiscent of our own.
---
March 2, 2018
"Truly, I do not like the book Alice in Wonderland." Coming from Corban alumna Rachel Ost, the statement is a bit surprising. After all, Alice in Wonderland was the inspiration behind her very first full-length show, Alice—the show she's directing at Corban University this spring.
---
Next page